Lunch sessions back in session!
Just when you thought it was safe to go back to your regular pizza joint...
Boo ya!
We're baaaack...
And this time a tad bit wee...
ok..
extremely
more annoying than ever...
Empress and I were on hiatus due to her moving to another country..
ahem
..town...for work purposes...
But today as I sat at my desk pondering which blog to read...(my boss is outta town)...she gave me a call and asked if I wanted to have some lunch...

Of course I said yeah...
First Vid...
Translate:
Empress:
"Hey..I did not know Doogie Howser was gay...I mean it was the just the other days I remmember him typing on his Huge computer...

Hello I'm Doogie and today I saved a 12 year old girl who was in my class room...I'm a genius baby doctor

"..
We also discuss how VH-1 has become our main source for world news...
followed by a long silence due to the fact we were giving VH-1 way to much publicity..
Empress:
VH-1 doesn't pay for my

effin'

SUV..
The second lil' jewel came from a phone call we made regarding the title of a movie...the person on the other end told us, he couldn't think of the title quickly because he felt
WE
were pressuring him
(WE..?? the nerve..)
So we immediately asked him if he felt he was on
Who Wants to be a Millionaire, the Puerto Rican version
..
And the third jewel starts buy us whining that we lost the washer and dryer prize at the
Who Wants to be a Millionaire contest
...but then get a bigger surprise when we see that pets really do resemble their owners...

"They even have the same hair style and color!!!"
During our lunch outting we stopped by at a cool sneaker boutique where Empress was going to plunk down 100 a pop for some vintage sneaks...but resisted the temptation of the devil..and instead we took a pic of these cool sneaks made for coffee lover's galore..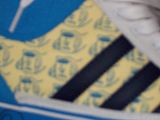 At another 100 dollars-a-pop I'll take my chances buying a
mocha-latte-fancy-coffee-name
anyday, to indulge in my coffee obsession...
So after a lunch of pizza...watching gossip TV on the pizzeria's small screen and short giggle filled ride later..we were back to our work spaces...with our tummies full and our hearts joyous we could re-kindle our lunch routine...
No guys, two girls and pizza...
That's what I call the closing the year in style..